SUBJECT MATTER Historical Marker Process

Definition:

Subject markers are educational in nature and reveal aspects of local history that are important to a community or region.

These markers honor topics such as church congregations, schools, communities, businesses, events and individuals.

Subject markers are placed at sites that have a historical association with the topic, but no legal restriction is placed on the use of the property or site, although the THC must be notified if the marker is ever to be relocated.

Criteria:

Age: Most topics marked with subject markers must date back at least 50 years, although historic events may be marked after 30 years, and individuals may be marked, or may be mentioned in a historical marker text, after they have been deceased for 10 years.

The THC may waive the age requirements for topics of overwhelming state or national importance, although these exceptions are rarely granted and the burden of proof for all claims and documentation is the responsibility of the author of the narrative history.

Historical significance:

A topic is considered to have historical significance if it had influence, effect or impact on the course of history or cultural development; age alone does not determine significance.

Topics do not necessarily have to be of statewide or national significance; many historical markers deal with local history and a local level of significance.

Age alone is not sufficient for marker eligibility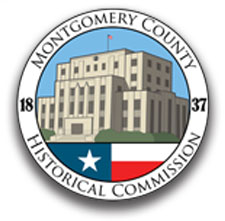 WELCOME

This website developed & maintained by friends of the

Montgomery County Texas Historical Commission

Montgomery County Texas Historical Commission

c/o

414 West Phillips St. Suite 100

Conroe TX 77301

This page was last updated: March 9, 2019